Sales Lessons Learned In Quarantine
How do you make sales during a pandemic? This question has been at the top of many business owners' minds. Back in 2019, when we tried to predict the trends of the following year, no one could have expected the events that were to come. When COVID-19 was declared a global outbreak, companies had to adapt on the fly; there's no modern rulebook about how to adjust your business model during a quarantine. Entrepreneurs needed to find ways to maintain their sales even when their physical locations were forced to close. Customers began to face a great deal of uncertainty, causing them to be hesitant about spending. To save their business, many owners slashed their expenses and laid off employees, even if it had an overall negative impact on the health of the company.
When finances become uncertain, businesses need to reach out to their clients and inform them about the steps they're taking to prioritize safety. Resources are limited, and it's challenging to find out where they are best invested. But one thing company owners can do is educate themselves and listen to what others are saying. Paying attention to the ways that other businesses are staying successful can provide valuable insights about how to maintain profits during a pandemic.
Focus On Your Online Presence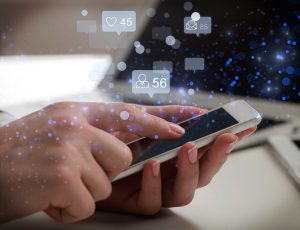 Hosea Chang, the Chief Operating Officer of Hayden Girls, learned to be extremely grateful for the ability to rely on an online presence. Hosea shared the following: 
If you're not online, you're as good as dead. I feel bad for any physical business that's been blindsided by this because chances are that they haven't been able to pivot or recover. It's a tough position to be in. Our online store has actually been busier than ever, so it turns out that people still shop while they're forced to stay inside. And they've shopped a lot. If you needed any signs that online and digital are the future, this was a big one. No matter what happens, we have our online presence and customers have access to our products. That matters a lot for universality. Especially with so many people moving from large cities into smaller, suburban or rural areas, you want them to be able to find you wherever they are. 
Stewart Dunlop, the owner of LinkBuilder.io, discussed that with the strict rules on social distancing, sales reps who are used to doing face-to-face marketing are forced to bring their business online. But with the internet being vast and vying for everyone's attention, sales reps should consider investing in improving their online presence. They would need to find creative ways to get exposure. My quick tip: Focus on giving value to clients (be it videos or posts). Depending on your industry, find a platform, then give value to keep them fixated on you because they have seen a preview of what they can get from you.
Adjust Your Midset
Lucy Reyes, with Cheers to Blogging, agreed that all in-person businesses had to change their ways to accommodate the new Coronavirus guidelines, but she suggests that online businesses had to shift as well. As people started shifting to purchase items online, many people also began searching for jobs that could be done at home. Therefore, content creators had to adjust their mindsets and products to cater to these new needs, thus creating an online boom of eCourses and eBooks, along with getting creative on how to conduct services virtually. 
She shared the following advice:
I'd tell new sales representatives to really research the new ways of marketing to people in these challenging times. Sales tactics from last year likely won't work now as mindsets and priorities have shifted." 
Robert Hilo, the owner of the DJ Events Company, Hilo Productions, shared a unique secret with us. He explained that he now wears a mini microphone under his mask which is connected to a mini speaker around his neck.  Seriously, have you tried reading lips under a mask? Six feet for social distance? Try 20 feet! Your clients and voice will thank you!
Understand Your Customers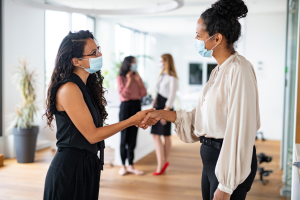 Mayank Batavia, Head, Marketing and Partnerships at QuickEmailVerification, explained that businesses are facing totally unprecedented challenges. As a result, their responses are often not the most rational acts. Many businesses are either cutting down their marketing spending way too deeply for their own good or are trying to wish the pandemic away by not making tough decisions.
Mayank said:
The most important lesson we've learned is empathy and that's what we'd like our salespeople to learn too. We're paying closer attention to how we can better help customers. We are trying to develop a deeper understanding of what they might be going through and offer to connect them with any businesses that might be a good lead.

Finally, we are exploring how we can help by sharing relevant facts about the pandemic, considering that COVID-19 is looking more and more like a moving target. Only by comprehensively understanding our customers can we hope to add real value that will transcend the tough times of the day".
Robert Lewis, the President Peak Access Solutions LLC, stated that the most important thing he has learned since the pandemic began was that you need to evolve faster than your competitors in all areas, not just in lead gen. People will look to you to be the expert and will, more than ever, want to know what separates you from the others. Branding and marketing have zero substitutes and if your competitors are pulling back, go all in. 
Robert shared:
I've also learned that there is no true substitute for in-person meetings and presentations. My advice to a new sales rep would, first and foremost, be to read the room. Shake hands or don't shake hands, mask or no mask, small talk or drop info and run, customers are giving you signals from the moment you step in the door. Read them." 
Check-in With Existing Customers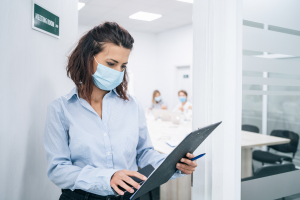 Kate Diaz is an interior designer and owner/writer for Swanky Den.  Kate described that as a business owner or part of the sales team, it's vital to provide your customers with all the relevant information they need. Doing so allows them to have peace of mind. Inform them how you can serve them and learn how you can improve your business to cater to their needs once we enter the new normal.
One of the sales lessons I learned during quarantine is that customers do not like to deal with the unknowns, which tends to either weaken or stop sales. There are so many uncertainties that rose during these trying times, such as whether the virus will resurface or how the economy will come out of this. That lack of knowledge of all things unknown makes customers unable to come up with the right plan on how they will be able to deal with the possible new normal or changes."
The Reputation Consultant from Rize Reviews, Courtney Quingley, shared the following advice with our readers:
To increase the chances of renewals, I believe in concentrating on the existing client base. It is super important to ensure that your clients are in a good position and are in a position to continue with your service or your product. When we are all operating from home, it's simple to get pulled into Zoom meetings all day, which makes every hour that much more significant. Reps need to easily decide where to invest their resources and which deals to work on — which is why exposure is highly crucial to the health of the contract." 
Alex Manos is a Los Angeles-based entrepreneur and owner of Beverly Hills Car Club, and he explained that it is important to leverage social media, especially LinkedIn and Instagram. His advice to new sales reps would be to build your own brand as a salesperson and create your following by posting authentic and engaging content – not only about your business or products. Alex expressed that you need to entertain and educate your audiences. Share your lessons in sales, actionable tips and tricks, stay active, and add value to your followers without starting a sales conversation. Patience and empathy go a long way!
Final Thoughts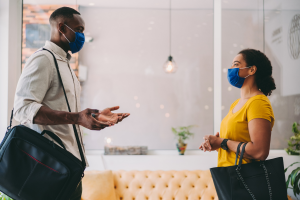 Not all businesses will survive this pandemic; how they decide to respond to the new regulations and culture will determine their fate. Owners need to make quick choices about where they need to tighten their budget, how to make their services accessible for those at home, and what they need to do to stay relevant and current in a rapidly-changing marketplace. It's no easy task. Some have reacted too quickly by making rash decisions to save their business; it's tough to know what to do in a completely new situation. One thing that companies can know for sure is that their customers are just as unsure as they are. They'll appreciate a business that reaches out to them and offers informational content. 
For companies to stay afloat during the pandemic, they need to create an online presence. Maintain and update your social media accounts so that customers can find you easily. A website is a must, especially for businesses who've closed their physical locations. Companies must find new ways to reach their client base, which makes marketing increasingly important, now that people are spending more time online. By implementing these strategies, companies can continue to make sales, even in a time of financial uncertainty.