The Guide to Hosting a Business Lunch (or Dinner)
There's a lot of teleconferencing these days; from Skype to a phone call to a quick text, most of our communication is done virtually. That's all the more reason to know what you're doing when you invite someone out to talk business over a meal. Making a good first impression in the flesh can mean better opportunities for both parties. This first part of this guide will give you a general overview of how to ensure things go smoothly for your business lunch, while the second part will delve into some Winnipeg specific tips.
General Hosting Guidelines
As the inviter, it's your responsibility to make sure that your guest feels comfortable at the lunch. You have to do your research, both about your guest and about the restaurant. You want to find out about any dietary concerns your guest might have – discreetly, if possible, as discretion is what makes hosting magic happen. You might learn that your guest is vegetarian; ensure that you find a restaurant that accommodates them. You might instead find out that they have a very tame palette; avoid places that are mostly renowned for their exotic or spicy food.
Check out the restaurant before you book a table, then again shortly before the meal itself. The first visit to the location will be to check the ambiance. How loud is the place? When you can't hear your guest over the music and conversation, it can be difficult to delve into meaningful discussion. Do your scouting when conditions will be similar to when you're there; that is, go on the same day of the week, around the same time as you plan on having your meal. Ask the manager or front of house staff if the ambiance you see is typical for that time on that day. Introduce yourself to them if you think it will be a good spot for a business lunch; ask if they can accommodate dietary restrictions on the fly if you haven't managed to find out about your guest's dietary concerns. Make sure the restaurant takes your credit card of choice.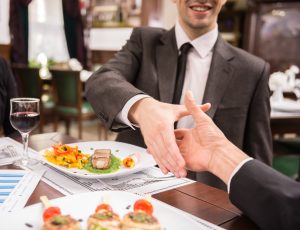 The second walkthrough of the restaurant should be had shortly before the actual meal – the day before, if possible. Ask the manager to show you the exact table you'll be seated at; if you think it will be too loud, or that you or your guest might be uncomfortable, ask if you can change tables. Find out where the washrooms are so you can tell your guest. Let the manager know about any other changes you would like before the meal, and see if they can accommodate them. 
As with any interaction with a new person, moderation is key; avoid talking about hot button topics unless you're really certain your guest would enjoy doing so. You want to talk business, but a healthy dose of casual conversation can build the relationship beyond its preliminary transactional nature. For the most part, you should abstain from drinking, and you should certainly abstain from getting drunk.
One of the perks of a business lunch is that it can be written off, in part, as a business expense; great news if your guest decides on the 20 oz ribeye at 529. Keep your receipts for any business lunches you have and track them; your accounting firm will make sure you get the appropriate tax breaks. 
Winnipeg Hosting Tips
There is a wide variety of fabulous restaurants that you can host at in the city; here's a list of some of my favourite options.
There are special considerations that need to be made when considering reservations in wintertime. Parking must be close to the restaurant; you don't want your guests freezing as they try to plough through the snow to get to your destination. Whenever possible, try to pick a place to meet that's quite close to where your guest works or lives, depending on the time of day; that way, if their car breaks down or they experience other troubles, they'll be closer to help.