The Guide to Airbnb Hosting in Winnipeg
Winnipeg is a wonderful place to visit. We have incredible festivals all year long; few places can boast such a celebratory atmosphere in the middle of February. We have restaurants that are beyond compare, from scrumptious meals at local diners to haute cuisine around Osborne and the Exchange. We have a rich and storied history, from Louis Riel to the General Strike to the construction of the Floodway. We have the Jets! Our city today looks better than ever, and just in time, too; it's never been easier to travel than with Airbnb, and Winnipeggers with a keen business sense will want to get in on the action.
There's a lot to consider before you rent out a space using Airbnb, so we're going to focus on three broad categories: basics, personal touches, and regulations. The content of this article is focused on the City of Winnipeg; if you're from another city, regulations may differ, so don't take this as catch-all advice.
Basics
The best way to understand the basics of hosting with Airbnb is to review their website's guide to hosting. The company does a lot to protect both hosts and guests; they employ something we're seeing much more commonly in the gig economy, the two-way review. With two-way review, guests and hosts review each other. These reviews are not anonymous so you can put a name to a face, and you can evaluate the credence you have in reviews. Airbnb also offers protection from property damage and liability insurance for its hosts in the amount of $1,000,000 each. You'll be expected to respond to guests quickly, as well as to be ready to host on days you list your property as available. Airbnb does not like it when you cancel on guests shortly before they're supposed to arrive, so be very careful to be sure you can host on the days you've promised.
Infrastructure is important to consider when hosting: how the guests will arrive at your property, how they'll enter your property, and how much space they will have. Some guests are more than happy to share a space with their host; you might offer them your basement, a spare bedroom, an upper floor. Other guests prefer to be left alone, and these people will prefer a whole space to themselves. When you live in the space your guests will occupy, the affair becomes more like the Bed and Breakfasts from which Airbnb gets its name. You'll be able to act as a local guide and source of information and you'll be on hand should your guests need anything. For those who rent out a whole space, you'll need to consider how your guests will access the space.
The easiest way to allow your guests access is to have a locksmith install a keypad lock; simply provide your guests with the code to enter your building, and there's no need for spare keys that can easily get lost. You want your guests to be able to reach the space easily which can be difficult in the wintertime. Hire a snow clearing service, or wake up early to clear it yourself on days where you know there's going to be snow. Your guests are not going to want to have to shovel your walkway to leave every morning.
You'll want to make sure the space is well-cleaned before and after your guests arrive and leave. You can do this yourself or hire a cleaning service to make sure everything looks immaculate. You can even charge a cleaning service fee to clients so those costs will be accounted for.
Personal Touches
When everything is adequate you'll get a good review. When you go the extra mile to make your guests feel special you'll get a rave review. The easiest personal touches are notes pinned to food, or better yet, alcohol. Leave a bottle of wine or some baked goods with a thank you note to your guests; they'll no doubt appreciate the gesture.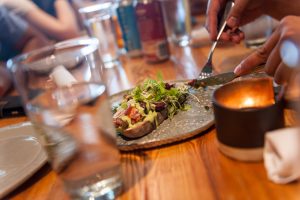 A personal touch that I'm particularly fond of is information packages about the city; it's like a tourism kiosk in your home! The package should include some of your favourite destinations in the city. Most people visiting a new place like to eat out, so include some of your favourite restaurants. Here are some suggestions if you don't go out too often: White Star Diner for delicious, greasy diner food, Clementine's for a fancy brunch, Sous Sol for a speakeasy-esque experience, Cafe Dario for a multi-course feast and Segovia for a romantic tapas dinner. 
You'll want to provide details and directions to the must-sees for Winnipeg tourism: the Legislative Building, the Forks, Old St. Boniface, Downtown (especially the MTS Centre) the Exchange and the Village, as well as for instructions to reach any festivals or events that are occurring when your guests arrive. You can provide them with instructions on how to find buses using the Winnipeg Transit website and if you're feeling particularly generous, include bus tickets. You'll also want to let your guests know about the Winnipeg rideshare apps; most guests will be used to Uber and Lyft. TappCar and InstaRyde are great picks. Other apps include Cowboy Taxi and ReRyde. You can also provide numbers for traditional taxis: Duffy's and Unicity.
Younger guests will want to know about Winnipeg's nightlife which can mostly be found Downtown, in the Exchange and in the Village. Hip clubs for dancing include 441 Main, the OV Club and Fame. King's Head, Bar Italia and the Toad are great for a casual drink, and The High and Lonesome is great for live music. 
Be available for your guests; answer any questions they might have, check your messages regularly, and always have a phone nearby. The greatest personal touch you can bring is your time and knowledge.
Regulations
The tax regulations for Airbnb in Winnipeg differ from the regulations for hotels. While hotels have to pay an accommodation tax, as of the date I'm writing this, Airbnbs do not. There's also no need to pay licensing fees to run an Airbnb in the city. Airbnb income is mostly considered rental income for tax purposes in Canada, though depending on the accommodations you are providing, it might instead be considered business income. You should consult a tax professional to know for sure, but Global has provided a guide to Airbnb income. 
When you're renting a condo or apartment, check the rules of your association or rental agreement to make sure they allow for Airbnb. You should also talk with your insurers when you're planning on renting out property, as it might be considered a material change in your contract. Review what Airbnb requires of its hosts; once that's all done, you should be set!