Awning Installation: Style and Types
When the sun is too hot, we throw a baseball cap or a fedora to protect our heads. When it rains, we use an umbrella to safeguard ourselves from getting wet. With awnings, you can enjoy the same benefits from the comfort of your patio or deck. There are a variety of options to choose from when picking the right awning for your home. While they all serve the same purpose, one type may be suitable for your window or doorway while another would best serve your patio. 
Where to Install An Awning
There are several places to install awnings in your home. It all boils down to personal preference and reason. Most awnings are installed over the open areas around the exterior of your home. You may install an awning on your front porch to provide an overcast shade. With such, you can relax on your front porch while sipping cold margaritas in the summer, without the worry of getting sunburns. The awning also protects you from rain, allowing you to hold outdoor events such as a family barbecue even when it pours outside.
You could also install an awning over your window or doorway. During summer, window panes absorb much of the sun's heat which is then transmitted indoors. As a result, you may have to crank up your air conditioning, which leads to increased energy bills. When you install an awning, the sun casts a shadow over your door or window, cutting out direct contact between your home and the sun's heat. Additionally, awnings can redirect rainwater from the foundation of your house.
Types of Awnings
Awnings are categorized by their design and functionality. The most common type is a stationary or fixed awning. This type of awning comes with a welded frame that is permanently fixed on the exterior walls of your home. They are sturdily built to last a lifetime and cannot be shifted to serve another section of your home. Since most awnings use elastic material, they can collect rainwater as well as snow. It is of utmost importance to have a professional roofer install the awning so that even in the event of extreme weather, it stays in place.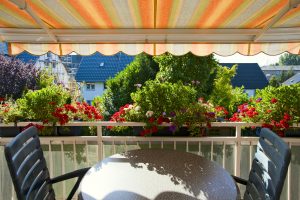 Fixed awnings are best installed over windows and doors to provide all-weather protection.
Portable awnings offer flexibility and convenience. Unlike fixed ones that are installed as a permanent extension on your wall, portable awnings are freestanding and one can easily shift them from one part of your home to another. Some manufacturers even make portable awnings that follow the trajectory of the sun, which provides you with shade when the sun rises and sets.
You also have the choice of getting retractable awning. These are the most recommended type, as one can easily roll or fold them up when it's raining, snowing or when not in use. They are a suitable alternative to a stationary awning. You may also opt for a motorized retractable awning that can fold and unfold at the touch of a button. Modern motorized awnings even allow you to control them remotely from your smartphone.
Styles
While there are limited types of awnings to choose from, you can choose different styles to match your taste and liking. Open-sided slope awnings appear to have a steep slope with the metal frames visible on either side. They are the most common style for stationary awnings. If you wish to have the metal frames on either side of the awning-covered, you could opt for an elegant slope awning. This comes with fabric covers that hide the metallic frames on either side of the awning.  
The other option is rigid valance awnings. This style resembles both open-sided and elegant slope awnings. The main difference is that the edge of the valence is tightly screwed, Giving it an even steeper slope. Another style to choose from is the waterfall awning.  The slope on this type of awning resembles the flow of water falling from an edge. This results in a softer slope. For a more urban look, you may opt for a dome awning. These have rounded edges that form a dome-like shape over your window or doorway. You have the option of choosing between a perfect dome and an elongated one.
Awnings compliment the curb appeal of your home while offering protection against extreme sunlight and rain. You may also accessorize your awning with hanging lights to offer ambient lighting in the night. To ensure longevity, call a qualified roofing contractor for professional installation.